Ian Richmond
Kennel Assistant- Part Time

Ian has traveled further than any of our kennel assistants to take care of your pets. He is from Blackpool, England and worked in one of the zoo's there. Wanting to continue working with animals in the United States, he joined our staff in December of 2014. Ian and his wife are here for the next few years while she is working in a teacher exchange program. In his spare time he coaches youth soccer and also plays on an adult league.
Meghan Rutowski
Kennel Assistant- Part Time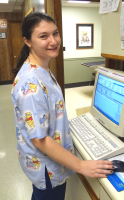 Meghan has been volunteering and working with us since she was young. She enjoys coming to work with her father, watching and learning from him. She is currently in college, hoping to follow in her father's footsteps.
Judy Price
Kennel Assistant- Part Time
Sarah Lash
Kennel Assistant- Part Time